Cobra Optics Night Vision binoculars
Meteor
An ergonomically styled, all metal bodyshell Gen 1 binocular utilising 2 x high grade V8 Gen 1 tubes.

Fitted with two 80mm f1.6 lenses, these offer 3.6x magnification and a 15° field of view.
Power is provided by 1 x 3V Lithium CR123A (not supplied) that also feeds the built-in short range Infrared Illuminator.
Interpupillary movement is available on this model.
An external light sensor helps prevent tube damage from bright light sources.
A tripod socket is built in to the lower right side of the body.
Supplied with a shoulder case.
Night vision binoculars offer better extended observation than monoculars since they are less likely to give eye strain. With a monocular, one eye is adapted to the ambient lighting and the other to the night vision scene. With a binocular both eyes adjust at the same time.

Optional Accessories
7011 - 150mW IR Illuminator
7012 - 75mW IR Illuminator

METEOR™
Gen
Dimensions
Weight
FOV
Lens
1
200 x 164 x 68mm
1100g
14°
64mm f1.5
Mag
Battery
MRVR
I Red
Case
2.9x
1 x CR123A 3v Lithium
3-140m
Yes
Yes
Nebula pro night vision binocular
An ergonomically styled, all metal bodyshell Gen 1 binocular utilising 2 x high grade V8 Gen 1 tubes.
Fitted with two 80mm f1.6 lenses, these offer 3.6x magnification and a 15° field of view.
Power is provided by 1 x 3V Lithium CR123A (not supplied) that also feeds the built-in short range Infrared Illuminator.
Interpupillary movement is available on this model.
An external light sensor helps prevent tube damage from bright light sources.
A tripod socket is built in to the lower right side of the body.
Supplied with a shoulder case.

Night vision binoculars offer better extended observation than monoculars since they are less likely to give eye strain. With a monocular, one eye is adapted to the ambient lighting and the other to the night vision scene. With a binocular both eyes adjust at the same time.

Optional Accessories
7011 - 150mW IR Illuminator
7012 - 75mW IR Illuminator

METEOR™
Gen
Dimensions
Weight
FOV
Lens
1
200 x 164 x 68mm
1100g
14°
64mm f1.5
Mag
Battery
MRVR
I Red
Case
2.9x
1 x CR123A 3v Lithium
3-140m
Yes
Yes
Corona night vision binoculars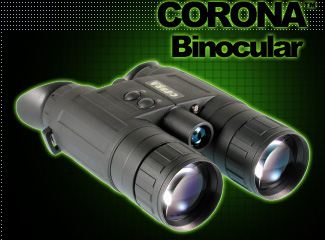 A new compact and lightweight night vision binocular, styled like a roof prism day binocular, utilising a rubber-armoured, all-metal bodyshell.

The Corona™ again uses 2 x high grade V8 Gen 1 tubes. Keeping size to a minimum, 2 x 50mm f1.2 lenses have been used that give 2.5x magnification and a 20° field of view. At just 0.5m, minimum focus is very close for a night vision binocular.

The unit is powered by 2 x 1.5V Alkaline LR1/MN9100/Type N batteries (not supplied) which also power the built-in short range Infrared Illuminator. An external light sensor helps prevent tube damage from bright light sources.

Ergonomic, wrap-around eyecups are fitted as standard to maximise user comfort and minimise glow from the eyepieces. Interpupillary movement is available on this model.

Supplied with a shoulder case.

Night vision binoculars offer better extended observation than monoculars since they are less likely to give eye strain. With a monocular, one eye is adapted to the ambient lighting and the other to the night vision scene. With a binocular both eyes adjust at the same time.
CORONA™
Gen
Dimensions
Weight
FOV
Lens
1
170 x 135 x 56mm
750g
20°
2 x 50mm f1.2
Mag
Battery
MRVR
I Red
Case
2.5x
2 x LR1/MN9100/Type N 1.5V Alkaline
91m
Yes
Yes
Pulsar night vision binoculars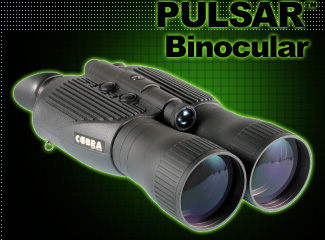 Latest addition to the binocular lineup is this high magnification, rubber armoured, all metal bodyshell Gen 1 binocular utilising 2 x high grade V8 Gen 1 tubes.
Fitted with two 100mm f1.6 lenses, these offer 5.0x image magnification and a 10° field of view.
Ergonomic, wrap-around eyecups are fitted as standard to maximise user comfort and minimise glow from the eyepieces.
Power is provided by 2 x 1.5V Alkaline AA/MN1500 batteries (not supplied) that also feed the built-in short range Infrared Illuminator.
An external light sensor helps prevent tube damage from bright light sources.
An accessory shoe on the top of the unit allows attachment of a high power IR illuminator - either the 7011 150mW or 7012 75mW.
A tripod socket/adaptor is built in to the base of the body.
Supplied with a shoulder case.
Night vision binoculars offer better extended observation than monoculars since they are less likely to give eye strain. With a monocular, one eye is adapted to the ambient lighting and the other to the night vision scene. With a binocular both eyes adjust at the same time.
PLEASE NOTE: Because of this units very wide exit pupil diameter, no interpupillary adjustment is required.

Optional Accessories
7011 - 150mW IR Illuminator
7012 - 75mW IR Illuminator

PULSAR™
Gen
Dimensions
Weight
FOV
Lens
1
250 x 150 x 68mm
1200g
10°
2 x 100mm f1.6
Mag
Battery
MRVR
I Red
Case
5.0x
2 x 1.5V Alkaline AA/MN1500
175m
Yes
Yes